Anglo-American Occupation



On July 10, 1943, the 7th American Army and the 8th British Army, respectively commanded by Patton and Montgomery, landed in Sicily; that island's occupation began with the capture of Messina on August 17, 1943. When the occupation of Sicily was completed, postal service was restored by A.M.G.O.T. (Allied Military Government of Occupied Territories) with the issue of nine postal values printed in offset by the Bureau of Engraving and Printing in Washington. The original print showed only the legend "Allied Military Postage" and in the middle, one numeral on white background, printed in sheets of 400 stamps with gutters containing 4 panes of 100 stamps each.




At the time of use these were overprinted in black typography with the legend "Italy-Centesimi", "Italy-Lira", or "Italy-Lire" on two lines: one word above and one below the central number. The issuing of the values was staggered over time. The 15c value was issued on August 24, 1943; the 25c, 30c, 50c values and the 1 Lira were issued on September 17, 1943; the 2 Lira value was issued on October 14, 1943; the 60c value on October 15, 1943; and the 5 and 10 Lira values were issued on October 20, 1943. These stamps, printed obviously to be used by the Allied forces, were also used for the private correspondence within the island. Their last day of validity was September 30, 1944.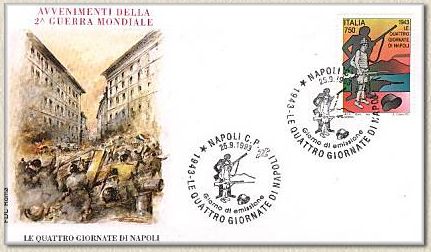 Following the popular rising of September 27-30, 1943, the German troops had to abandon the Parthenopean city. When the Allies went into Naples, the city had already been set free.

For the restoration of private postal service, a set of three values was issued by overprinting the 20, 35 and 50c stamps of the "Imperial" set with the three lines "Allied Military Government", printed by Richter Typography in Naples.
In addition to in the Naples zone, near the front, these stamps were distributed in Puglia because of the need for postage stamps. The Italian authorities which had moved to the south didn't like this issue very much because they were now "co-belligerents" on the side of the Allied armies.