Anglo-American Administration of Venezia-Giulia and the Jugoslavian Occupation



There was still an area of the country where normalcy was hard to reach: Venezia-Giulia. Following the Duino's Treaty, the region was divided in two parts by the "Morgan Line". The part then occupied by Yugoslavian troops came under the provisional administration of the Allied Military Government.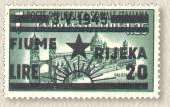 In order to emphasize Yugoslavian occupation of three cities which had been Italian before the World War, Yugoslavia overprinted some stamps of the Italian Social Republic found locally with the following legends: "Istra" for Pola and Istria; "Fiume - Rijeka" for Fiume; and "Trieste - Trst" for Trieste.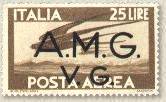 Later, the Yugoslavians had to abandon Trieste, which then passed under the control of the Allied Military Government. In October, 1945, this administration issued their own stamps by overprinting Italian stamps in current circulation with the overprint "AMG - VG" (Allied Military Government - Venezia Giulia). They overprinted twelve values of the "imperial" set with or without fasces including one air mail value, nine values of the "democratic" set, plus seven air mail values and two express stamps.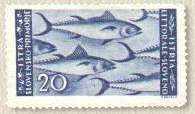 As for the Yugoslavians, they issued a ten-value set which depicted the products of the land, fishing, local industry, and landscape subjects, reserved for use in Istria and the Slovene Coast.