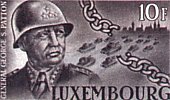 Click on the image you want to enlarge.

Italian Center for
Resistance Philately
- Cifr -
Member of the Federation of Italian Philatelic Societies
Versione

italiana qui!
Click the yellow button to find out all about us!
Click on the stamp images to jump to a
specific area, or browse our site with the
buttons at the bottom of each page.
Do you collect stamps of the Second World War?

Are you interested in military posts?

Have you ever heard of stamps used in espionage?

Are you a topical or thematic collector?

Do you understand the postal systems used by prisoners of war to communicate with their families?

ITALIAN RESISTANCE HISTORY (1943-45) through stamps (20 illustrated pages).

ITALIAN PEACE KEEPING FORCES MISSIONS, reduced English version.

C

ONCENTRATION CAMPS
72 pages

Click here to see the index of the latest issue of "La voce del Cifr" (free copy on request)

Links to main philatelic web sites
Welcome! You are our
visitor!
-- new counter from the 2nd of may 2000 --
Internet realisation:
Richard E. Scott, Jr.