Disponibile la monografia in inglese sulle spedizioni italiane in Antartide 1957-1995
Now Available!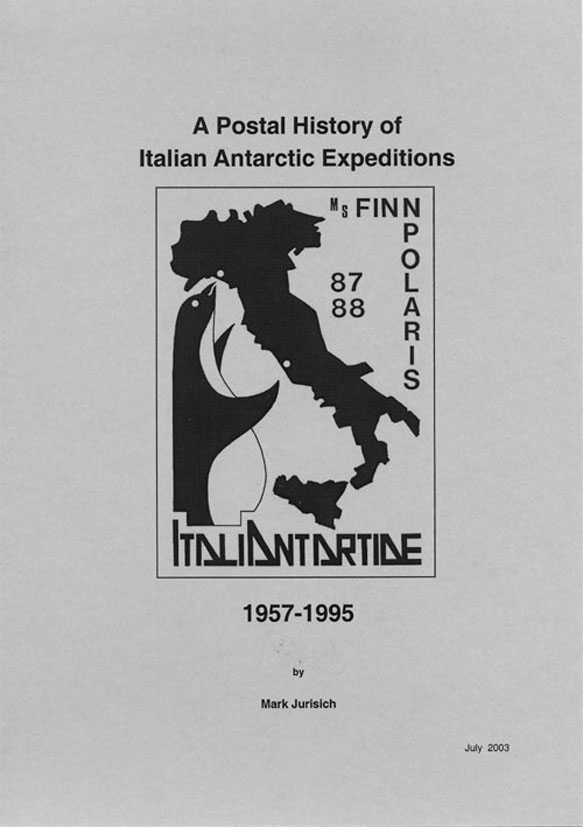 Scritta dall'esperto di filatelia polare Mark Jurisich, abbiamo il piacere di proporre ai nostri soci questa interessante monografia in lingua inglese. Alcuni dati sono stati riportati nella parte del nostro sito dedicata alle missioni scientifiche in Antartide.
Here are the details for the monograph on Italian Antarctic Expeditions by Mark Jurisich:

Title: A Postal History of Italian Antarctic Expeditions 1957-1995
Author: Mark Jurisich
Publisher: Classic Publications, Christchurch July 2003

Comments:
Italy began its Antarctic adventure in IGY 1957-58 when Lieutenant Faggioni became the first Italian to winter-over with the New Zealanders at Scott Base. Italian activity in Antarctica was generally undertaken in conjunction with NZ or USA exploration programs until 1986 when Italy established its own base, Baia Terra Nova, at Terra Nova Bay and later another, Concordia Base, in conjunction with the French, at Dome C in 1993.

This 37 page monograph, with over 75 images, maps and photos, provides an introduction to the postal history of Italian activities in Antarctica to 1995, the 10th anniversary of expeditions conducted by the National Research Council of Italy.

Price: NZ$ 20.00 + postage per copy (20 dollari della Nuova Zelanda corrispondono a circa 12,00 Euro per l'Europa, ma verificate con Classic Publications).)

To order copies, please contact:
Ms Bryony Bruce
Classic Publications
PO Box 13-396
Christchurch New Zealand. Nuova Zelanda

email: paulwales@inet.net.nz
fax: 0064 3 365 9987
----------------- ░░░░░░ ---------------------
Clicca QUI se vuoi vedere ora la nostra sezione sulle missioni scientifiche in Antartide in versione Italiana,
click HERE to visit now the English version of the Cifr web pages on Antarctic expeditions.
aggiornato il 28 dicembre 2004