Programma Nazionale di Ricerche in Antartide
National Reserach program in Antarctica
Base italiana di Baia Terra Nova e Dome C (base Concordia)
Italian Base Terra Nova Bay and Dome C (concordia base)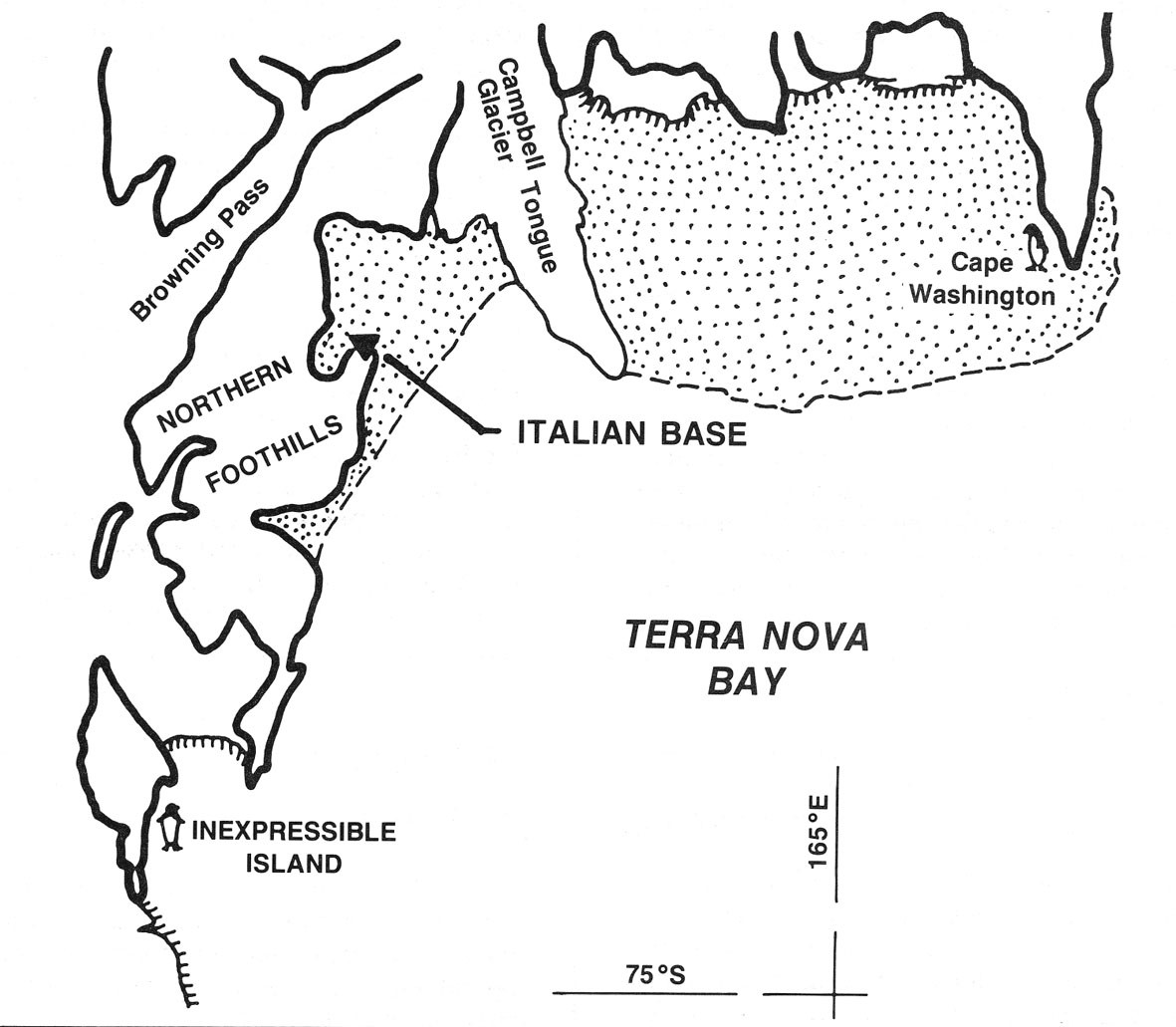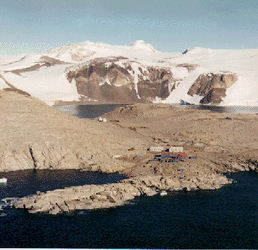 mappa della base italiana
Italian base map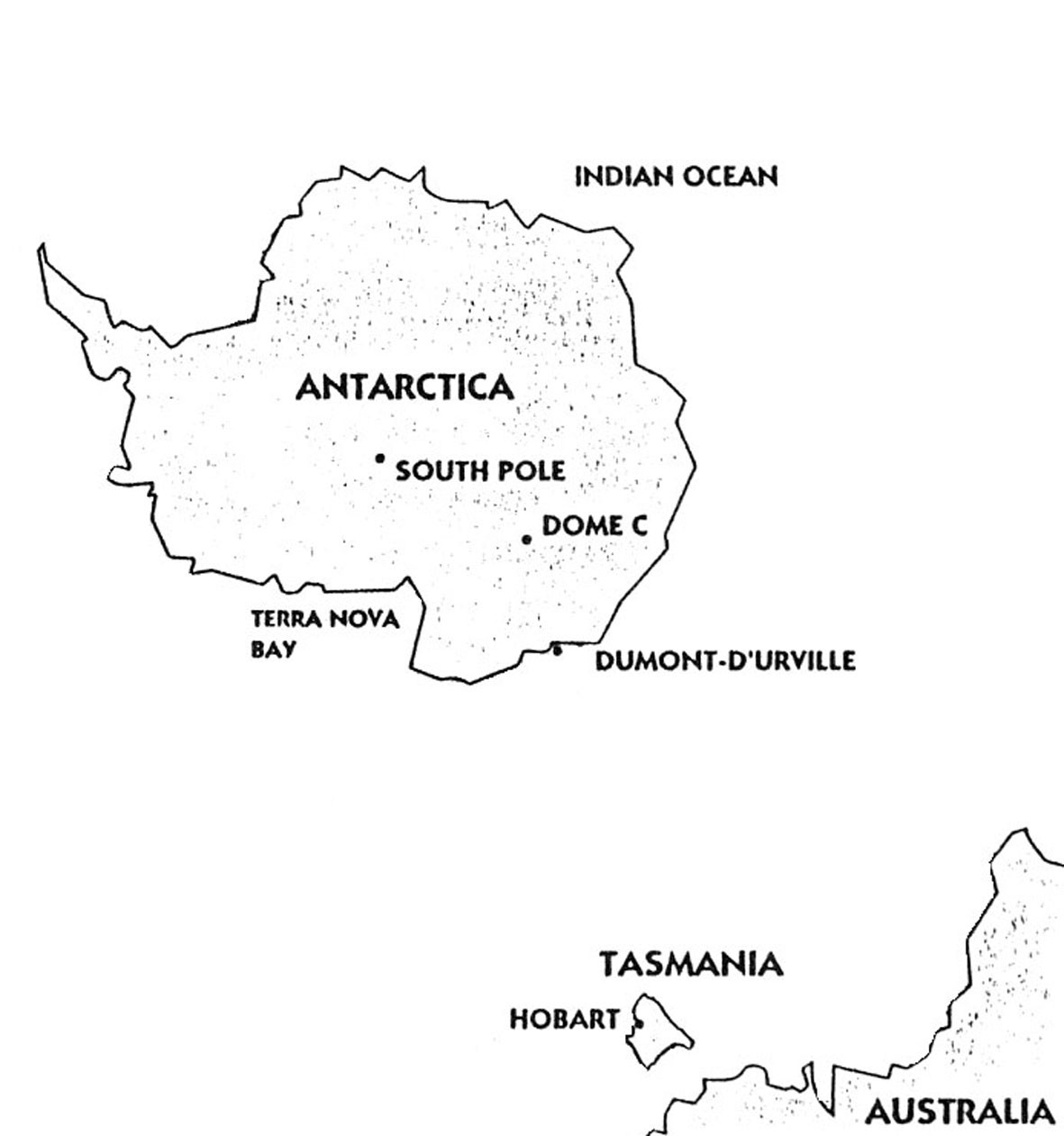 Posizione della base italiana e del Dome C in Antartide
map of Italian Base and Dome C in Antarctica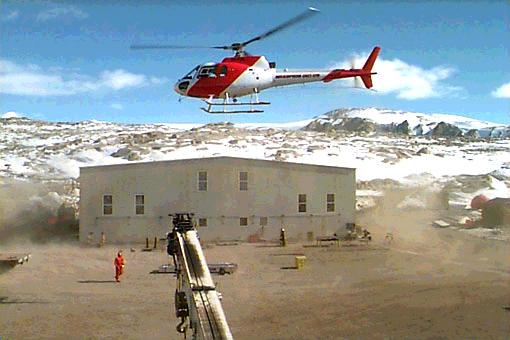 La base italiana di Baia Terra Nova nel 1996
Italian Base Terra Nova Bay in 1996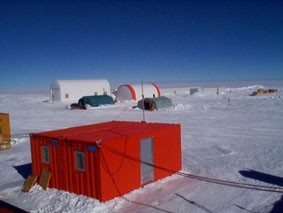 Dome C in 1999
Nel 1999 la base Dome C non è ancora una base permanente ed è sede, come base "Concordia", di attività congiunte Italia-Francia.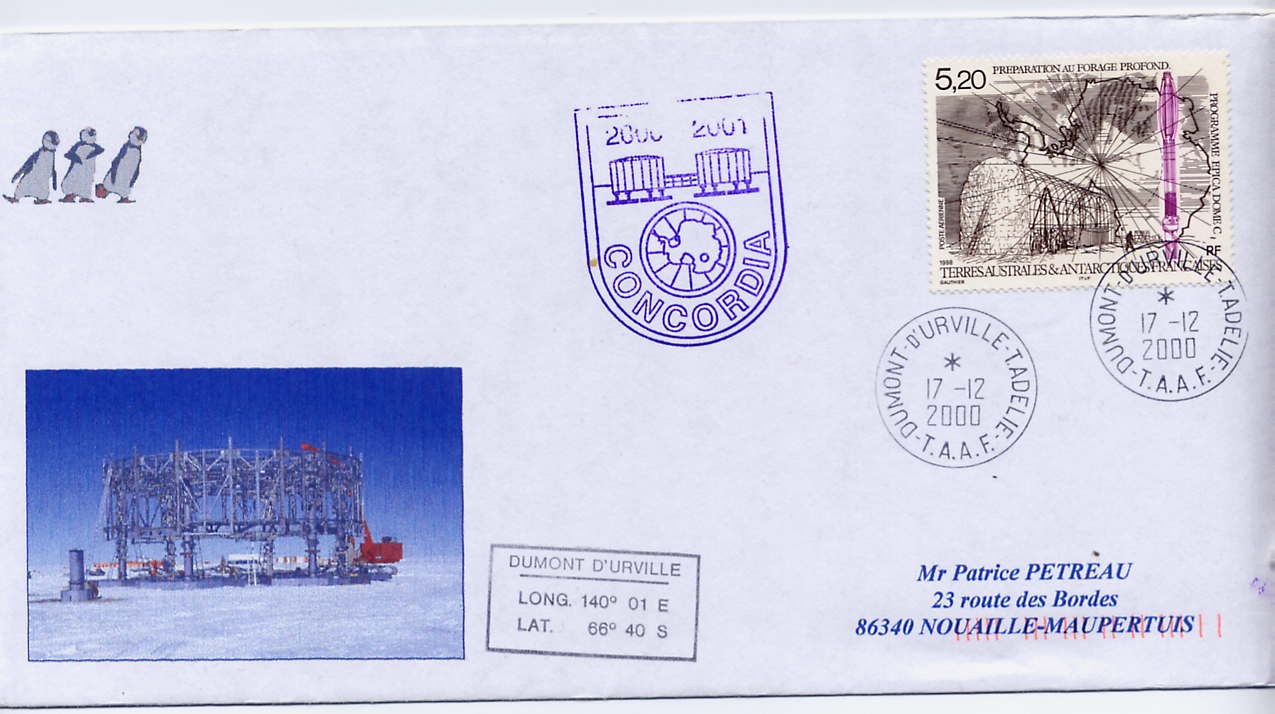 Concordia Base in 2000

News November 2003:
Disponibile la base Italo Francese di Concordia/ Concordia base to be officially commissioned
The joint French/Italian Base "Concordia" will be officially commissioned this season with the completion of the building of the main station complex. Erected on poles, this modern station is located on the Antarctic plateau and is supplied by aircraft from Tera Nova Bay and an annual overland traverse from Dumont D'Urville Base.

News early 2004:
La base italiana di baia terranova è stata rinominata "Stazione Mario Zucchelli", in memoria del leader di molte spedizioni, nonché Presidente del Consorzio per l'attuazione del Programma Nazionale di Ricerche in Antartide (PNRA).
Mario Zucchelli è scomparso il 24 ottobre 2003.
"Italy is later this year (at the start of the new season) going to rename its main antarctic base situated at Terra Nova Bay. Until now the base has been called Terra Nova Bay or more correctly in Italian "BAIA TERRA NOVA". It will be renamed "MARIO ZUCCHELLI STATION" in honour of Mario Zuchelli, the Italian Antarctic Expedition leader of recent years who died only last year after a short illness. Mario was well known in Antarctic circles and renaming the base in his honour will be widely applauded."


These information were provided in March 2004 by Steve, we thanks him very much. You may contact him via e-mail or through his web site. He can provide covers and stamps and information related to Antarctica.

STEVEN McLACHLAN,
SHADES STAMP SHOP LTD,
60 Shades Hereford, 112 Hereford St,
CHRISTCHURCH,
NEW ZEALAND.
email ;steve@philatelic.org.nz
Check out the Antarctic Philately from New Zealand website at
http://www.newzeal.com/steve/antarctica.htm
see some Antarctic news at
http://www.newzeal.com/theme/antarctic/2000news.htm

News October 2004:
Apprendiamo che fra in francobolli previsti per la TAAF nel 2005 è previsto anche un dentello per la base Concordia Dome C. Just now we know that in 2005 TAAF will issue a stamp which is related to Concordia base.

Link to Concordia information: http://www.concordiastation.org/DOMEC/HTML/home.shtml

News nella relazione del maggio 2004 per la spedizione XX 2004-2005: (News on report of the XX expedition:)
"Le attività logistiche a Dome C sono state particolarmente intense in previsione della prossima apertura invernale della Stazione italo-francese Concordia, prevista a febbraio 2005."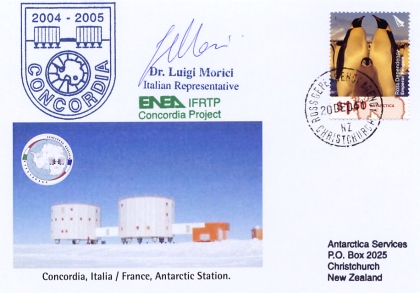 A cover from Concordia base with the sign of Italian responsible Dr. L. Morici
Una busta dalla base Concordia (20 dicembre 2004) con la firma del nostro responsabile Dr. Luigi Morici.
A good web site with many covers of Concordia Base is at this link: http://www.newzeal.com/theme/bases/IT/concordia.htm
Thanks to Steve McLachlan for his courtesy. Ringraziamo Steve per la sua cortesia, visitate il suo sito al link qui sopra indicato.
2005/2006: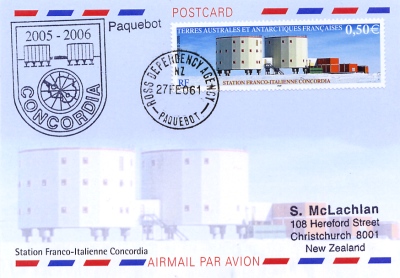 Concordia Base 27 febbraio 2006

Other News:
Per news e cover delle nostre basi nel 2005, 2006 e 2007, clicca sulla rispettivo link delle missioni XX, XXI e XXII, XXIII
o visitate il sito: http://www.italiantartide.it/spedizioni/xxii/default.asp
potete cercare anche al sito http://www.concordiabase.eu
N.B. alcuni siti non sempre sono accessibili o ancora attivi.
Riceviamo dal Dott. Giuseppe S., responsabile sanitario della base Concordia (per l'anno 2006-2007) dei
graditissimi saluti dal Polo Sud: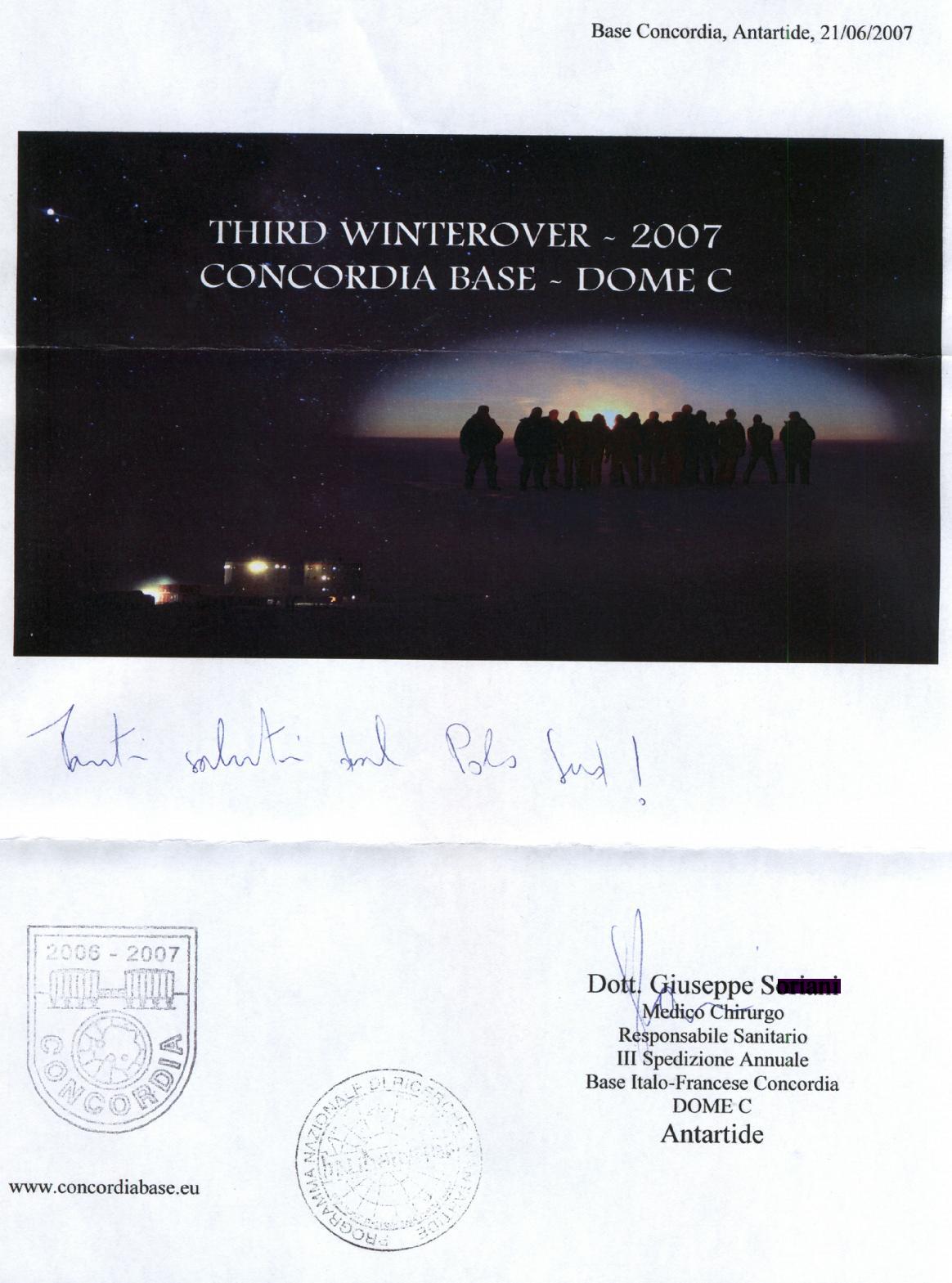 I saluti dalla base Concordia - datati 21 giugno 2007- sono stati poi spediti nella seguente cover, che porta l'annullo della base francese Dumont d'Urville in data 14 dicembre 2007. La cover è pervenuta a Milano in data 22 gennaio 2008, tassata per 1,11 Euro: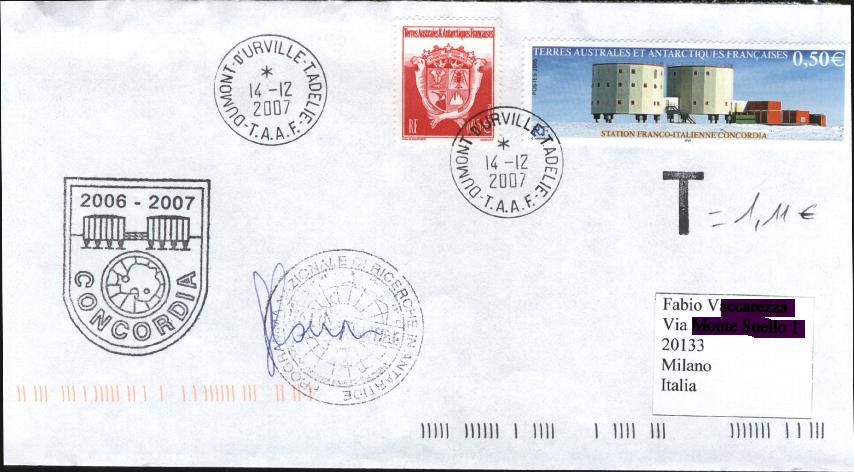 Third winterover 2007 -Concordia base- Dome C 2007
Clicca su "indietro" Click on Back button, or click on:

last update on the 22nd of January 2008